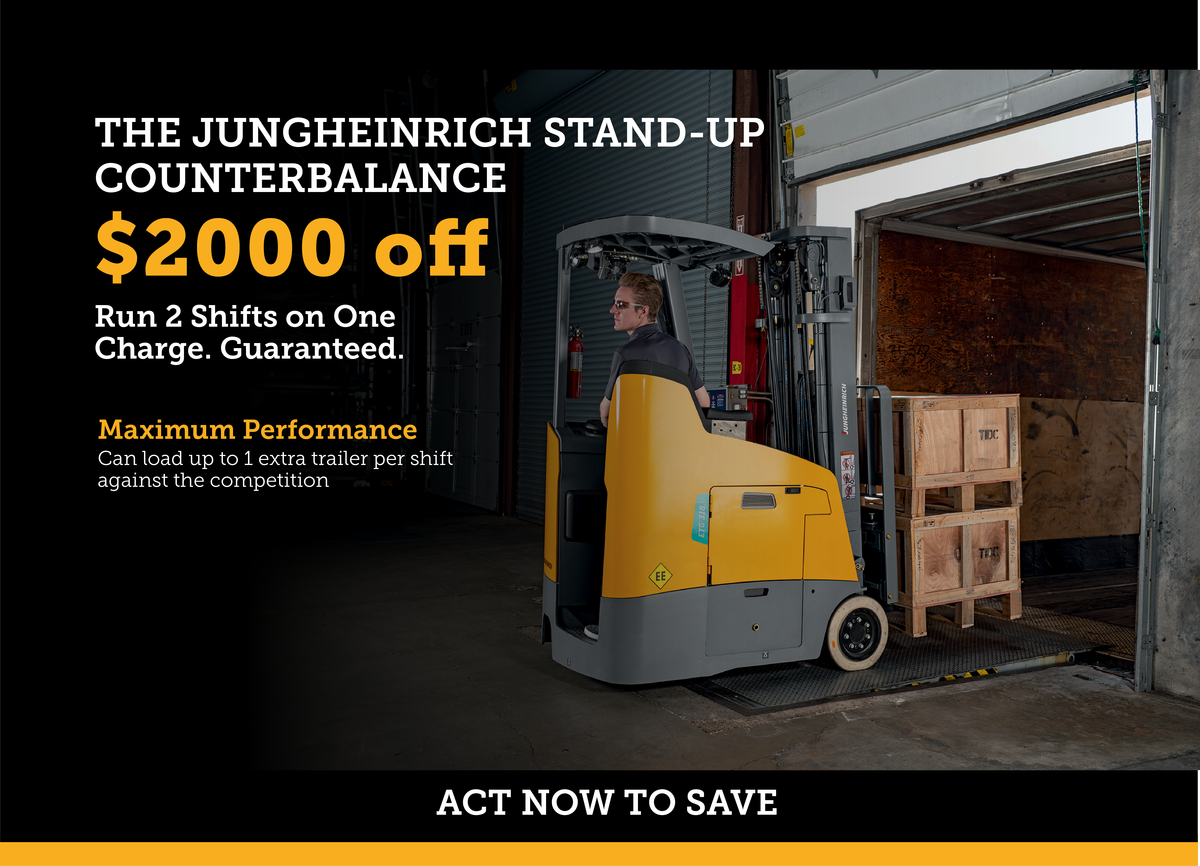 THE JUNGHEINRICH STAND-UP COUNTERBALANCE $2000 off. Run 2 Shifts on One Charge. Guaranteed. Maximum Performance. Can load up to 1 extra trailer per shift against the competition. ACT NOW To SAVE!
$2000 INSTANT REBATE
For a limited time, new and existing customers can receive a $2,000 instant rebate with all Jungheinrich stand-up counterbalance purchases.
The $2,000 Instant Rebate promotion for new Jungheinrich Stand-Up Counterbalance purchases has been extended. Customers and dealers can continue to take advantage of this promotion through the end of the year
- December 31, 2020.
Contact us today for more information on this promotion or to get a new equipment quote.
The ETC Series

Electric Stand-Up Counterbalanced Lift Trucks

3,000 - 4,000 Capacity

Guaranteed to run 16 hours on a single

battery charge

No interim charging

No battery changing

No additional battery needed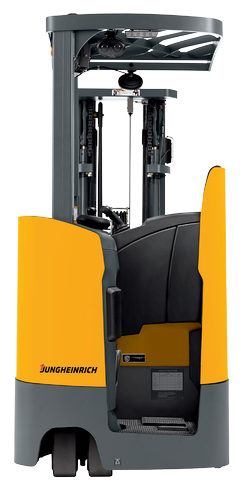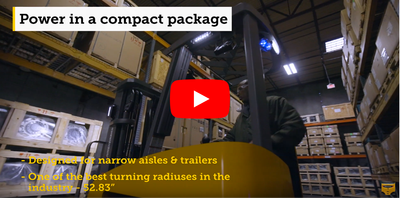 See the Stand-Up Counterbalance Lift Truck in Action
Productivity and Versatility.

Designed From The Ground Up.

The ETC Series of stand-up counter-balanced lift trucks are strong enough to handle a wide range of fast-paced, real world industrial applications and customizable enough to fit the needs of the most demanding operator.

Whether you're moving on and off the truck, shuttling goods, loading and unloading trailers or moving large loads in tight spaces from dock to stock, the ETC Series is designed for maximum performance and efficiency.

Available in 3,000 — 4,000 lb. capacities, these, 36-Volt AC lift trucks set the industry standard — reaching lift heights of up to 276 inches.
Smarter Basics
Electronic Parking Brake
Horn Mounted In The Control Lever
Emergency Power Disconnect
Parking Brake
2 LED Front Work Lights
Optional Light Packages
* Ask your local dealer about additional safety accessories and options.

WHO is Jungheinrich?

The leading electric lift truck manufacturer

Their name may sound strange — JUNGHEINRICH (Young-Hine-Rick). But it's a name you should know. They're the world's leading brand of electric lift trucks. While others are new to electric, their 5th generation technology and more than 60 years of electric lift truck design experience allow Jungheinrich to deliver two shifts on one charge — guaranteed — for greater productivity.