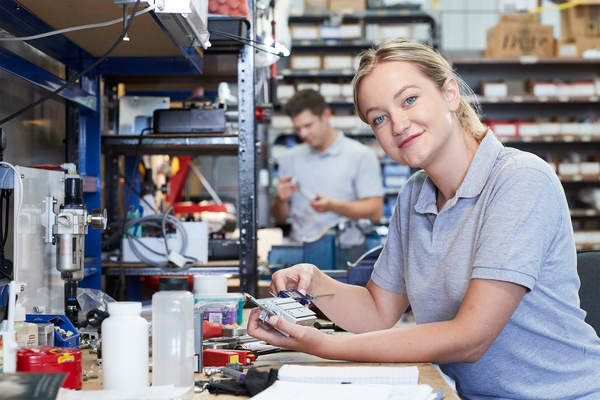 Ergonomic Solutions from Morrison
There is no doubt that there are many benefits of ergonomics. The basis of creating an efficient work environment, ergonomics in the workplace can improve productivity, employee satisfaction and retention, safety and higher quality work.
As you are looking to optimize worker performance and increase productivity, allow the warehouse products specialists at Morrison to help you plan and implement ergonomic solutions that fit your business and your budget.
Workstations
Our team is here to help you with preplanning to help ensure a workstation design that successfully integrates your operators, tasks and environment with solutions from top manufacturers like Rousseau and Bostontec.

Rousseau workstations have been designed to make your workspace functional and organized. Because they are modular, they come in a variety of configurations to meet the needs of your company and employees. There are multiple options to choose from, including stationary or mobile workstations and with or without a frame over the work surface.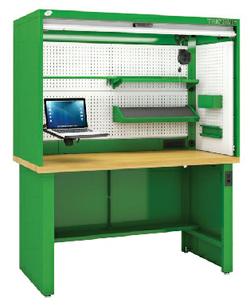 Rousseau TekZone Workcenter (60"W X 30"D X 74"H)

Fit the task to the worker — not the worker to the task.
- Bostontec
Established in 1993 as Boston Technical Furniture, our product line was developed based on ergonomics and product flexibility with an emphasis on sit-stand operation through electric height adjustability.
Case Systems, Inc. purchased the company in 2003, changed the name to BOSTONtec and moved manufacturing operations to Midland, Michigan.
Today BOSTONtec continues to grow and expand our offering to meet and exceed customer needs. We maintain our commitment to providing ergonomic workstations that increase productivity and improve quality of work life.
Lift Tables
Lifting, Positioning and Transporting Products
Southworth Products Corp is the world's largest manufacturer of ergonomic materials handling equipment for vertical lifting and work positioning, designed to improve worker productivity while reducing the potential for worker injuries. Whether you're lifting and positioning work, handling pallets, working with parts in containers or transporting loads, Southworth has a lift table, pallet positioner, pallet lifter, container tilter, portable lift table or stacker to make the job faster, safer, and, easier. They also employ the largest most experienced engineering staff in the business so a custom engineered solution is always an option.
Watch the LS Series Hydraulic Lift Tables Video