How to Maximize the Life of your Forklift Tires
Sep 01 2023
Tires
3 Min. Read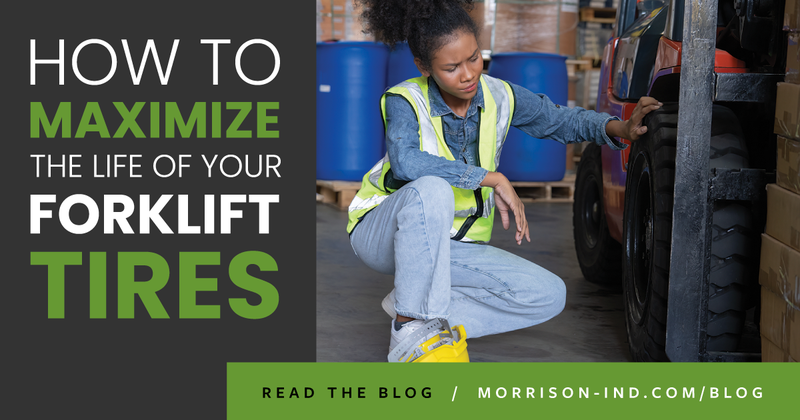 Let's talk about how to stretch your budget and get the most life out of your forklift tires as possible.
Damaged and worn-out forklift tires negatively affect productivity and profit because they lead directly to increased fuel consumption, reduced efficiency, and threats to safety. But the good news is that most of the damage and premature wear to forklift tires can be avoided by creating awareness and changing up some bad habits and practices.
#1. Buy the correct tires.
The very first step to maximizing the life of your forklift tires is to buy the correct tires for your fleet and your application.
For instance, pneumatic forklift tires are ideal for outdoor work, whereas cushion tires tires are ideal for indoor use on smooth floors where they offer much better traction and lower resistance for smooth operations. Polyurethane tires offer a much lower rolling resistance than cushion tires that helps conserve the batteries of electric forklifts and prolong uptime.
Also, where cushion tire forklifts are designed for use on concrete or asphalt surfaces only. pneumatic tires are perfect when you're using your forklift both indoors and out on improved surfaces.
Note that cushion tire and pneumatic tire forklifts have different frames, so you cannot simply change from cushion to pneumatic tires if your application changes. You can, however, change to a different tire style – from smooth press-on tires to traction, grooved or wide-track tires, or from a press-on tire to solid resilient tires.
#2. Complete an application survey.
The best and possibly the easiest way to make sure you are buying the correct tires is to have a trained forklift tire expert complete an in-plant survey of your forklift fleet tires and application(s). Morrison does this for FREE.
This will help you determine the optimum combination of tire compound, profile, and size for each specific application in your facility. The survey will consider:
The forklift manufacturer specifications for tires
Load and load frequency
Number of shifts and trips
Length of runs and travel the speed of forklift(s)
Capacity and class of your forklift(s)
Surface conditions and turning area for your forklift(s)
Type and weight of the materials being moved with forklift(s)
Housekeeping issues, such as non-marking or black compounds
#3. Know which tire tread or profile is right for your application.
Some general rules of thumb apply to forklift tire tread or profile style.
Use smooth tires for dry indoor applications and all steer axles.
Use traction tires for general-purpose use in a wide variety of applications.
Use grooved tires for larger-capacity trucks where loads and where operating conditions are extreme.
Use wide-track traction tires designed for all-season indoor-outdoor use.
#4. Smooth out uneven floors and surfaces in your facility.
Rough or uneven surfaces accelerate tire wear. Smooth them out where possible. Also, remove clutter from aisles since debris may damage tires.
#5. Train your forklift operators.
Finally, train your operators. Operator behavior has a major impact on tire life. Make sure forklift operators are thoroughly educated.
Download this free guide with 11 tips to help maximize the life of your tires!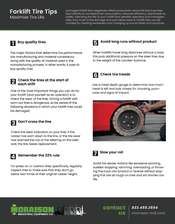 Morrison knows forklift tires!
Morrison's forklift experts know forklift tires. They'll analyze your needs and recommend the best replacement tires for your truck - no matter the budget or application.
© https://www.morrison-ind.com