A guide to safe winter forklift operation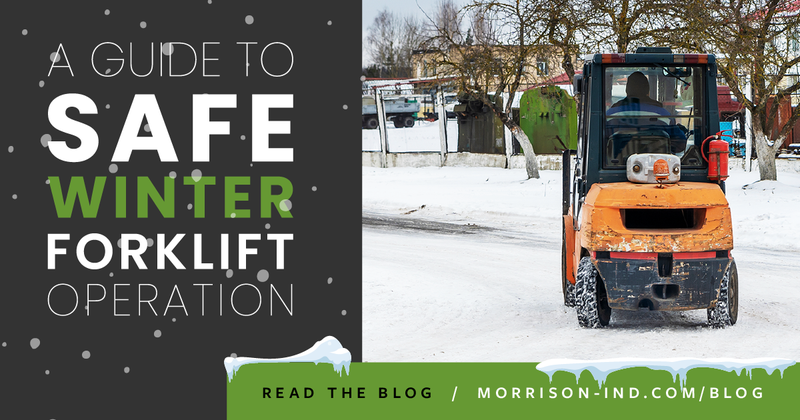 Get ready to take on Old Man Winter and send him packing! This comprehensive article will help you prep your people and equipment to conquer icy temps, slippery surfaces, brutal winds, and limited visibility.
Don't let winter weather wreak havoc on your operation - follow these forklift safety tips and operate smoothly all season long.
Reminders about safe winter forklift operation
Operating forklifts outdoors? We all know what's coming! Winter is on the horizon and that can pose problems for forklifts that operate outside in cold climates.
Cold makes seals and tires brittle, thickens fuel, oil and other fluids, and saps battery life.
Snow, sleet, rain, and wind can hamper visibility.
Ice and snow create slippery surfaces.
High winds can unbalance or even overturn equipment.
Shorter days mean more dark operating hours.
If your operation must deal with the colder temperatures, snow, and ice the season brings, here are a few reminders help keep your operation going and maintain forklift safety.
Winterize your forklift!
Tires
Be sure tires are in good condition and provide the traction needed for slippery surfaces. Chains or studs may be needed.
Batteries
Be aware that electric forklifts will lose power in cold conditions and may not be appropriate for outdoor use during the winter.
Fuel and fluids
Diesel fuel, hydraulic fluid, and oil thicken in the cold which may affect operation.
Heaters and lights
Heated compartments make it possible for forklift operators to work in the cold. Lights provide visibility when daylight is limited, and visibility is compromised.
Train your forklift operators for winter safety
Pre-shift inspections
Forklift operators need to understand the effect of cold on tires, seals, etc. and be trained to pay special attention to these as part of the pre-shift inspection.
Respect slippery conditions
Speed is especially dangerous outdoors in winter. Even equipment that's well-suited to outside use can run into trouble in icy, snowy and/or windy conditions. Encourage operators to take it slow to avoid accidents.
Safe operation
Train operators to:
Allow extra warm-up time to get sluggish fluids moving.
Use tire chains or studs when necessary.
Be cautious when turning corners, driving near doorways, and driving on slopes.
Slow down earlier when coming to a stop.
Watch for ice, snow, or mud on forks and loads (It can lead to shifting and slipping.)
Dress for the weather
That can mean parkas, hats, gloves, insulated coveralls, boots, and rain gear. Be aware of forecasts and current conditions so your forklift operators are prepared to handle whatever the weather dishes out here in Michigan and Northern Indiana.
© https://www.morrison-ind.com