The Critical Roles of Forklift Seats and Seat Belts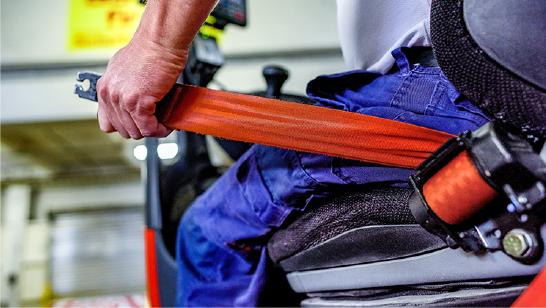 Forklift seats take a beating—and so do your operators! Let's talk about when, why & how to replace forklift seats.
The seat of a powered lift truck seems like a rather insignificant component.  Sure, the seat gets worn out, but it doesn't matter how, when or if it's replaced, right? Wrong!
Consider this. Unlike cars, forklifts have no springs or shock absorbers. The seat is the only thing protecting the operator from the bumps, jolts and shocks that happen when you're driving through a facility or across a lumberyard. A poorly constructed seat or a seat that's "past its prime" offers no support or protection to your operator. All that wear and tear on the body can cause lower back injuries that increase operator absenteeism, destroy morale, and even lead to worker's compensation claims.
Replacing Forklift Seats
Here are three key questions to consider when approaching seat replacement:
Why replace a forklift seat?
The first and best reason to replace forklift seats is to prevent injuries to operators. Since the seat is the only thing between operators and the jolts that are bound to happen when driving around a facility, having supportive, quality seats just makes good sense in terms of injury prevention.
Productivity! A comfortable (and uninjured) forklift operator is a productive forklift operator.
The other reason to replace forklift seats is to maintain good morale in the workplace. Investing in good quality replacement seats demonstrates your commitment to employee health, comfort and safety.
When should I replace forklift seats?
Certainly, a seat that's compressed, uneven, or ripped should be replaced.  But not all damage is visible, so it is crucial to check with your operators.  The people who use the forklifts every day are your best sources of feedback on seats.
What do I need to consider when replacing forklift seats?
Get the right fit. The seat attaches to the lift truck with bolts. The positioning of these bolts varies from forklift to forklift. You'll need to know this "bolt pattern" so whatever seat you buy fits the machine. This bolt pattern information is usually in your owner's manual.
Alternatively, we highly recommend the Morrison Universal Seat. Check it out here!
Trust your local Morrison parts professionals We know what works. We know how to save you money. And we back up our parts—including seats—guaranteed. For almost 70 years, our parts professionals have been providing the very best parts and value and we are here to help you.
Plan to save MORE Every summer we offer deep discounts on all replacement forklift seats and seat accessories during our Seat Sale June 15th – July 31st so you can plan on saving more from Morrison!
Buckle up for safety!
Seat belts are essential for operator safety. Tip-over accidents are an avoidable but all too frequent hazard for forklift operators. Injury or even death is way more likely to occur when operators are not securely strapped in and consequently thrown from their seats and crushed by the lift truck. Wearing a seat belt can keep an operator in the protective cage of the truck and greatly minimize injuries.
As you know, Section 5(a)(1) of the Occupational Safety and Health Act (OSH Act) requires employers to protect employees from serious and recognized hazards. Since tip-over accidents are a recognized, serious hazard and because the national standard ASME B56.1-1993 requires the use of an operator restraint system on powered industrial trucks.
You will also want to make sure all your forklift seat belts are in good condition and your operators are trained (and required) to use the seat belt provided.  Spot checks for compliance are recommended!
Count on Morrison
Our parts professionals are happy to answer your questions and partner with you to ensure you get the best parts, including replacement seats, for your forklifts. Contact us today!
© https://www.morrison-ind.com