What does forklift downtime cost?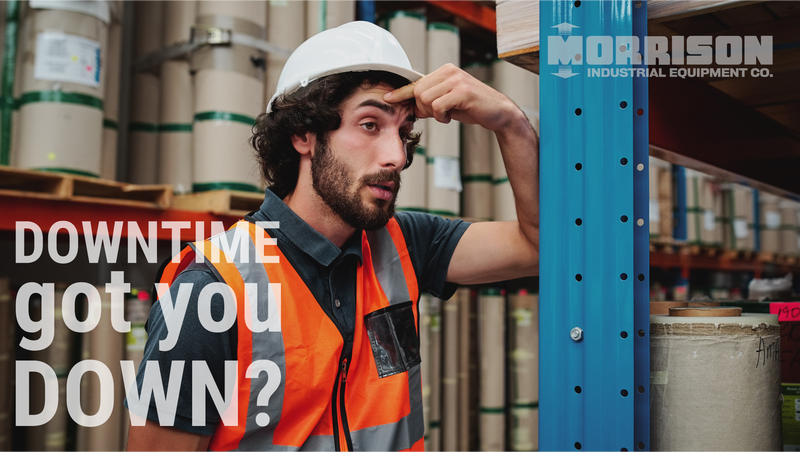 Downtime is a dirty word. We hate it. YOU, hate it. It is more than an "inconvenience"—it is expensive. Let's discuss how you can avoid downtime as much as possible and keep your business—and your forklifts—moving forward.
Downtime is not good for business—on that we can all agree. An out-of-commission forklift can cost anywhere from $6,000 to over $20,000 an hour, depending on the size of the operation. (Of course, these are averages derived from many facilities. Your downtime cost will be unique to your situation.)
In this article we'll look at what goes into the cost of downtime, as well as how to reduce downtime for your forklifts.
Calculating the cost of downtime
Knowing the true cost of unplanned downtime is complicated since the cost includes a wide range of variables. To do your own estimate, use your last unplanned forklift repair. Add together:
Repair costs (parts and labor)
Wages paid to the operator (if they were not re-assigned to another truck)
Any overtime hours incurred
Expedited shipping fees and other expenses you may have paid to ensure orders arrived on time
Business lost because you couldn't meet deadlines
Rental costs for replacement equipment (if applicable)
Wear and tear on other equipment and operators who may have had to fill in for the missing equipment
Once you begin this exercise you may find other related expenses, and you'll see how this adds up to significant costs.
Avoiding forklift downtime
We've gone over the bad news - the cost of forklift downtime. Now here's the good news. You can minimize forklift downtime. The main reasons for unplanned downtime are: Equipment issues (like poor quality machines, equipment that's not suited to the job or aging trucks), Human error, and Reactive repair (as opposed to proactive maintenance). Reducing downtime means addressing these issues.
We recommend:
Invest in good quality equipment
With forklifts, you definitely get what you pay for. Consider both purchase price and ongoing cost of operation when you're looking at buying forklifts.
Match the equipment to the task
Forklifts will break down and wear out if they have to perform tasks for which they're not suited.
Consider retiring or repurposing old equipment
Any machine may break down more frequently as it ages. Keep track of the frequency and cost of repairs so you'll know when you need to replace an older truck with a new one and maybe move the older truck to a less-demanding job.
Invest in operator training
Of course, forklift operator training is an OSHA requirement [1910.178(l)(1)(i)], but it's up to you whether you see this as a chore or an investment in the health of your operation. We fall on the side of investment. Well-trained operators are more likely to take good care of the forklifts and spot trouble before it becomes a major problem.
Perform  pre-shift inspections
This is another OSHA requirement [29 CFR 1910.178(q)(7)], and we recommend you and your operators take it seriously. These inspections allow operators to spot issues early and even side-step problems by replacing a worn component before it breaks.
Follow a preventive maintenance program
It's not unusual for a forklift repair to cost four times more than the cost to properly maintain it in the first place. Preventive maintenance reduces equipment downtime 30-50% and prolongs the life of your forklift 20-40%. Planned maintenance may create downtime, but it will cost much less than downtime that's unplanned.
Note that PM programs are not created equal. Morrison's SA or Systems Analysis Program is the most comprehensive and cost-effective planned maintenance program, customized for your business. Join the growing number of companies choosing to protect their material handling equipment investment with the Morrison SA program and our 130+ checkpoint system and profit from these key benefits:
Improved Safety
Extended Life of Equipment
Reduced Downtime
Lowered Operating Costs
Reduced Costly Breakdown Service Calls
Minimizing unplanned downtime will help you keep operating costs down, making you a superhero in your organization.
Your partner for equipment, parts and maintenance
When you're considering a forklift purchase, lease or rental, reach out to us for help in choosing the truck options that match your application and present the best investment option for your business.
We also offer a broad range of replacement parts as well as exceptional service to make sure your equipment performs as expected over the life of the truck. A Morrison material handling professional will partner with you to ensure you get the best for your specific needs.
© https://www.morrison-ind.com