Forklifts Down on the Farm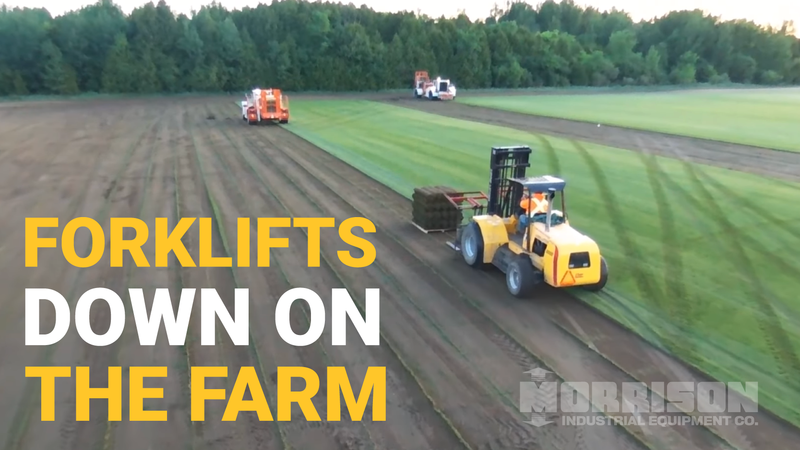 Farming is hard work - unpredictable weather, volatile market, physical demands, and the unpredictability of livestock and crops. Most farmers embrace technology that makes their job easier and depend on the lifting power of forklift trucks.
What forklifts can do
Here are just a few examples of important tasks in agriculture, food production and on farms, where forklifts are frequently used:
Lifting and loading
There are plenty of heavy items around a farm.  For instance:
Hay bales
Fruit lugs
Bags of feed, seed, and fertilizer
Fencing and building materials
Equipment parts
With the right attachments, a forklift can handle all of these and more.
Maximizing use of space
A forklift can safely lift and move heavy loads to heights that are usually out of reach which allows you to use more available vertical space for storage in barns, garages, and other large storage facilities.
Increasing efficiency
A forklift makes fast work of tasks like loading and unloading trucks. Whether it's toting fruit lugs, unloading seed or fertilizer or as an aid in maintenance and repairs, a forklift offers a versatile and safe alternative for all your lifting and moving needs.
For those raising crops, a forklift can help transferring seed or fertilizer, as well as moving lugs of crops. The speed at which a forklift works, adds efficiency to the operation.
Improve safety
Properly operated forklifts can improve workplace safety. Utilizing a forklift, your trained operators can avoid injuries from attempting to handle heavy loads manually or trying to lift material up too high or hard-to-reach areas. Using the right forklift for these tasks means reducing risk of serious injury and/or damage to property and products.
How to add a forklift to your farm equipment
If you want to add a forklift to your fleet of equipment, there are several ways to go. The first and most important step is to find a dealer you trust as a partner. We will be an invaluable resource for:
parts, service, and maintenance
information on different forklift models
advice on uses, attachments and other relevant information
guidance on the best option for acquiring a forklift
What is your best option when adding a forklift? If you are looking for new, you can purchase or lease. You can buy used. Or a great option for seasonal workloads—rent. For purchasing your dealer/partner can go over prices and financing. Leasing is another option, and dealers will usually offer several leasing options.  Equipment rental is great if your need for a forklift is limited - perhaps only during planting or at harvest time.  Renting a forklift is also a good way to try out the equipment before you buy or lease.
Selecting the best forklift for you
Choosing the right forklift model and attachments for your operation is complicated.  You'll need to consider:
Weight and dimensions of your loads
Whether loads are palletized
How high loads need to be lifted
Indoor and/or outdoor operation
Travel surfaces
Weather conditions
This is where it pays to have a trusted dealer/partner on your side. As your partner, Morrison will get to know your operation, point out tasks a forklift could help with, and recommend models that will suit your needs and budget.
Our recommendations
These forklift models are especially well-suited for agriculture applications.
This lift truck will give your operation a lift in productivity and safety.  It's quick, maneuverable, and powerful.
This low-profile model is great for applications where space and height are limited. Available in 2 and 4- wheel drive options, the Laborer Lo-Pro offers excellent rough terrain performance.
The Agri Lifter rough terrain forklift offers high performance in Turf / Sod applications as well as other industries where 4,000 to 5,000 lb. capacities are required. The Agri-Lifter has the ability to displace its weight which provides low ground pressure.
Your partner for equipment, service and more
If you're running a farming operation - livestock, dairy, field crops or produce - you need a knowledgeable partner. Someone who knows lift trucks and understands your unique needs. Morrison can help. When you're considering adding a forklift, reach out to us for help choosing the truck that matches your application and presents the best investment option for your business.
We also offer a broad range of replacement parts as well as exceptional service to make sure your equipment performs as expected over the life of the truck. Our trained representatives will partner with you to ensure you get the best equipment for your specific needs.
© https://www.morrison-ind.com