Can Ergonomics Boost Forklift Operator Productivity?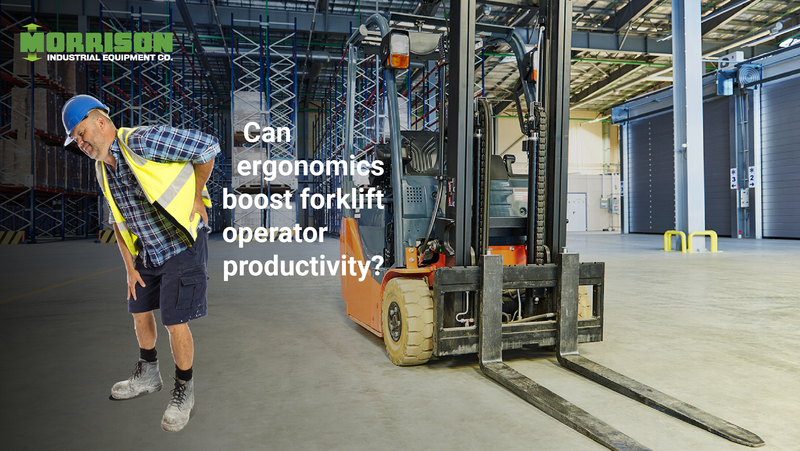 You've probably heard of ergonomics, the study of people's efficiency in their working environment, but have you ever considered how ergonomics can improve the productivity of your operation?
Let's take a closer look at how to improve forklift productivity by using ergonomic principles.
Risks and injuries
Forklift operators are exposed to many risks from sitting, repetitive movement, and shock and vibration. Stress from these factors can affect bones, muscles, tendons, nerves and soft tissues, leading to long-term pain or discomfort. At worst, pain and discomfort may lead to a Workers' Compensation claim. Even without going to this point, a worker who's in pain won't be able to perform at his or her best.
In transportation and in warehousing, many employees suffer from work-related musculoskeletal disorders. Employers can reduce injuries by improving employee behavior and investing in ergonomically designed equipment.
Best practice tips for better forklift ergonomics
Here's a list of ergonomics-focused best practice tips for forklift operators:
Vision

Reduce the need for the operator to twist

Provide a seat that rotates
Eliminate blind spots with mirrors, cameras, and sensors
Minimize the need to back up

Ensure that forklifts are clearly visible to other people
If the operator's vision is obstructed, for example by a large load, use audible warnings to alert others to the forklift's presence.

Posture

Train forklift operators sit in a way that allows them to reach all controls, and provides continuous lower back and upper leg support
Invest in equipment that makes this possible
Invest in seats that provide good cushioning from shocks and vibration and that support operator's posture

Vehicle Movement

Prevent rapid acceleration and braking to avoid whiplash
Repair rough spots on floor surfaces and ramps since these can jolt the operator

Strain & Injury

Allow for breaks every hour
Encourage operator stretching before, during, and after each shift
Reduce physical repetition by providing task rotation for operators
Ensure operators maintain three points of contact when entering and exiting the forklift truck to reduce the chance of slips and falls
Encourage operators to seek medical advice if warning signs of injury, like pain or fatigue, occur

Training

Ensure operators complete and maintain their safety certification

Results
What's the pay-off for implementing these ergonomics best practices? Here are the benefits.
1. Less Pain, Improved Health
When employees feel uncomfortable, it affects their ability to work. Ergonomics makes things feel more natural and safer. With this change, the body will be less strained, and health will improve.
2. Improved Mental Insight
There's less anxiety, increased awareness, improved moods, and focus. This can result in higher productivity levels.
3. Higher Productivity
The better focused your employees are, the high level of productivity they can have.
4. Higher Quality Work
Aches, pains, fatigue, and other problems can take a toll on workers. When people feel comfortable, they can focus on high-quality production.
5. Eliminate Hazards, Encourage Safety
Part of creating a more productive work environment is eliminating the daily hazards that can hurt your employees. Not only is a safe environment good for workers, it can mean savings in insurance costs as well.
6. Increased Employee Engagement
Employees notice when a business provides conditions for increased employees' health and safety. This can reduce the turnover rate and make your business one others want to work with.
7. Happier Employees, Happier You
When your employees are happy, their productivity levels will increase. The better they do, the better your business does.
Your partner for equipment, parts and more
Whether you have a single forklift or a fleet, you need a knowledgeable partner. Someone who knows lift trucks and understands your unique needs. Morrison can help. When you're considering adding a forklift, reach out to us for help choosing the truck that matches your application and presents the best investment option for your business. We can also offer expert advice on your material handling operation.
We offer a broad range of replacement parts as well as exceptional service to make sure your equipment performs as expected over the life of the truck. Our trained representatives will partner with you to ensure you get the best for your specific needs.
© https://www.morrison-ind.com