Do you need your forklift fleet to be more flexible?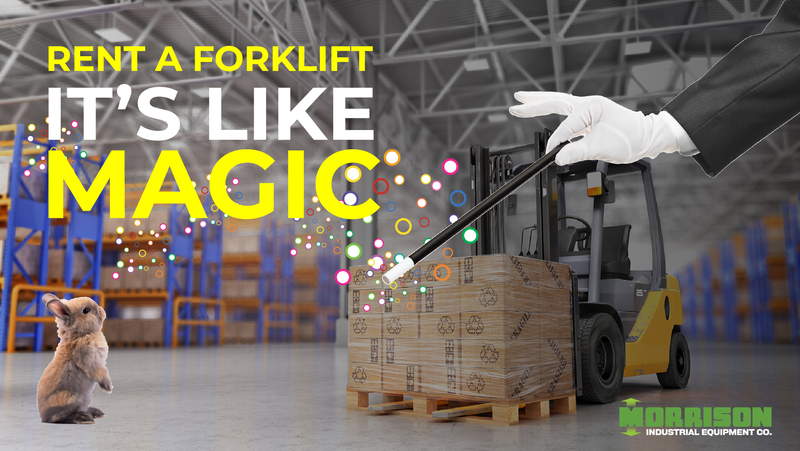 When is a short-term rental a good business decision?
Ever wish you could magically grow your fleet of forklifts to handle an unexpected surge in business or a seasonal uptick? Ever need to add functionality, like higher lift capacity or outdoor operation, to meet a short-term need? Well, you don't need to rely on magic. Morrison Industrial Equipment has an extensive rental inventory to meet your short-term forklift needs and we will help you determine if short-term rental is a good business decision in your situation.
When and why does renting equipment short-term make sense?
Understanding when and why you might rent forklifts short-term as opposed to buying more equipment can help your bottom line. Understanding whether the demand for more forklift capacity is long-term or even permanent as opposed to a temporary need, will inform your decision to rent or purchase. Depending on your need, renting a forklift on a short-term basis may align with both your budget and business needs.
Short-term rentals are great for:
Replacing existing forklifts that are out for repair or being serviced
When a forklift is out of service because it's being repaired, a rental can be a temporary fill-in to keep up productivity.
Meeting a temporary demand for a high capacity or extended reach
Temporarily adding a forklift with certain specifications that you only need for a short time, for a specific job, makes more sense for your budget than having an additional, purchased forklift sit in the corner unused much of the time.
Meet seasonal demand increases
If the workload increases for a period, renting equipment can affordably get you through. If your company experiences seasonal upticks in its' business, renting lets you expand your fleet to cover this surge without making a long-term investment in equipment.
Add functionality for a short-term need
If you need a forklift to add a function that's beyond what your usual fleet can manage, you may be able to rent equipment with those specifications that meet the need.
Retain productivity until a new forklift fits the budget
For example, maybe you need equipment now, but you can't make a purchase until a new fiscal year begins. A rental can tide you over without losing productivity.
Testing new models to see which best fits your needs
 If you want to test out a forklift before buying it, rent it first so you can try it out in your facility.
Advantages of Renting
If you're not sure about renting, consider these advantages:
Expand your fleet quickly
Expense the cost (check with your accountant)
Expense is time-limited
Have the distributor handle maintenance and repairs
Retain capital so it can be used elsewhere
What you should know about renting
Talk to us about the weights and size of loads, lift heights, surfaces and operating conditions, and any other special needs your facility may have. Your local representative or our rental specialists can give you good advice about the forklift model that will best meet your needs.
Renting from Morrison is more affordable with our Customer Advantage Rate.
Think about optional forklift features you'll need, like additional lights, attachments, or alarms, and make sure your rental equipment has them.
For electric forklifts, you'll want to review the battery charger requirements.
Establish how long your rental will last. You might be able to save money with lower long-term rates or by shortening the term of your rental.
Ask about optional service contracts.
Ask about charges for damages and the review process of how you'll receive and return the forklift.
Review your insurance policy.  You'll want to make sure your company's insurance covers the forklift, the operator, other people and the facility in an accident.
Rent from Morrison
Our rental fleet includes low hour, late model rentals from industry-leading manufacturers. We rent forklifts, MEWPs (aerial lift trucks), floor cleaning equipment, and a variety of industrial vehicles.  You can count on Morrison to meet your material handling equipment rental needs with over 850 forklifts in our rental fleet. We have a wide selection of models, including indoor, outdoor, cushion and pneumatic tires, high capacity, narrow aisle models, and forklift attachments.  Our same-day delivery minimizes downtime.
With one of the largest rental fleets in the Midwest, you'll find the rental equipment you need at Morrison Industrial Equipment. Whether you are looking for a scissor lift rental for a short-term project or a forklift rental for the season, we have the right equipment for you at the right rental rates. Contact Morrison to find out more about our rental equipment today!
© https://www.morrison-ind.com