How to set up a battery charging area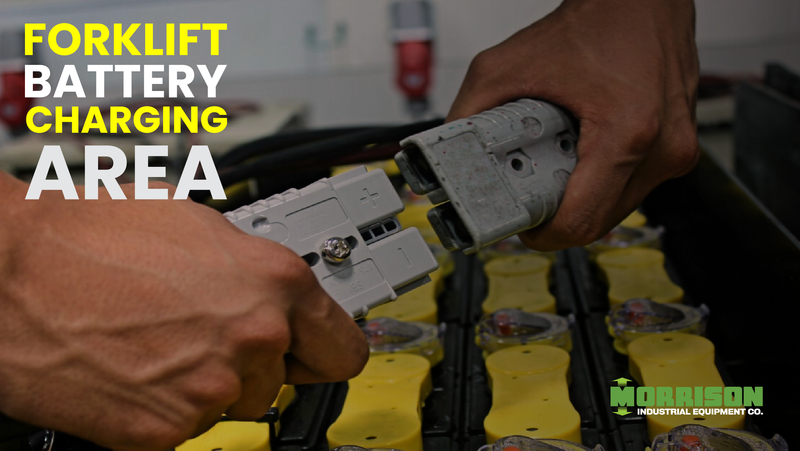 Battery charging areas or rooms have certain requirements and the location can help or hinder traffic flow and productivity.
Many times, warehouse design focuses on aisles first, and battery charging areas get added as an afterthought, in whatever leftover space is available. Unfortunately, these are typically not near lift truck traffic patterns or necessary infrastructure and end up adding unnecessary travel time.
There is a better way. When designers plan designated battery areas or rooms based on projected workflow and existing infrastructure, they can keep lift trucks in the aisles longer while reducing total operational costs.
Whether you simply convert an existing space into a charging area or plan a greenfield facility from the ground up, consider these six factors when deciding where — and how — to build a forklift battery area.
This article will explain the key factors in the set-up of a battery charging area and how a modular system is a quick and economic way to go.
What does a battery charging area require?
The time it takes to change or charge a battery is time that could be spent on more productive things. A battery charging area that minimizes travel time and reduces wear and tear on forklifts makes your operation more efficient. Make sure yours covers these five characteristics:
Convenience
The battery area should be located so travel between the facility's main working areas is efficient, and the area should have appropriate electrical service from a nearby main power feed. The area's design should allow space for all your lift trucks to navigate in and out without issues, and the space should allow for any expansion that's anticipated.
Safety
Make sure the space is properly ventilated to avoid the build-up of gasses from the batteries. And have hydrogen gas detectors installed. Have adequate plumbing for eyewash stations and showers since acid splashes or spills can happen. The area needs space to store personal protective equipment like acid resistant face shields, goggles, aprons, and gloves. You'll also need maintenance equipment and spill kits in case of battery acid leaks.
Equipment
Have your battery charging area equipped with enough forklift replacement batteries and battery changers to allow for quick and easy maintenance. Since forklift batteries are extremely heavy, your battery charging area needs to have the appropriate battery extraction equipment like gantry cranes or lifting beams.
Flooring
The floor of your battery area should meet OSHA, EPA and NFPA standards and be able to resist acid damage. Flooring should be flat since an uneven floor causes vibration, flexing, and stress on equipment resulting in decreased productivity.
Storage space
To meet OSHA requirements, chargers must be mounted on shelves specifically designed for that purpose. Vertical storage systems can save 50% of floor space; however, if batteries and chargers are stacked, allow enough spacing and ventilation. It's also important to provide easy access to chargers for maintenance.
Using a modular system to create a battery charging area
How do you install a forklift battery charging area that meets all these recommendations in a way that's both efficient and cost-effective? Modular construction can be an ideal solution. The advantages of going modular include:
Quick installation
You can get exactly what you need for your forklift battery charging area in just weeks.
Flexible by design
Build a forklift battery charging area right where you want it in your existing warehouse, build it around an existing lift-assist device, or design your charging station into an entirely new space. Because modular systems can be customized to suit a range of shapes, sizes, and capabilities, it's easy to get exactly the area you need.
Durability
Precision-engineered components make for a high-quality product that stands up to wear and tear over the long haul.
Safety
Modular systems meet battery charging area safety requirements. The components are available in a range of code-compliant options to meet fire ratings. To accommodate safety features like an eyewash or emergency shower station, you can specify water-resistant wall panel options.
Financial
There are tax benefits to going modular as well. Modular panelized wall systems are often considered tangible property so your forklift battery charging area will depreciate in just 7 years, rather than the 39 years typical for traditional construction. With modular construction, you can get the best, safest forklift battery charging station at an affordable cost.
Modular warehouse solutions from Morrison
Come to Morrison for solutions when it's time to add a battery charging area, in-plant office space, or other modular structure to your facility. At Morrison Industrial Equipment, we provide expert, professional, warehouse design and installation of modular solutions, pallet racking, storage systems and more. Contact us to learn more!
See also:
© https://www.morrison-ind.com