How much does a forklift cost?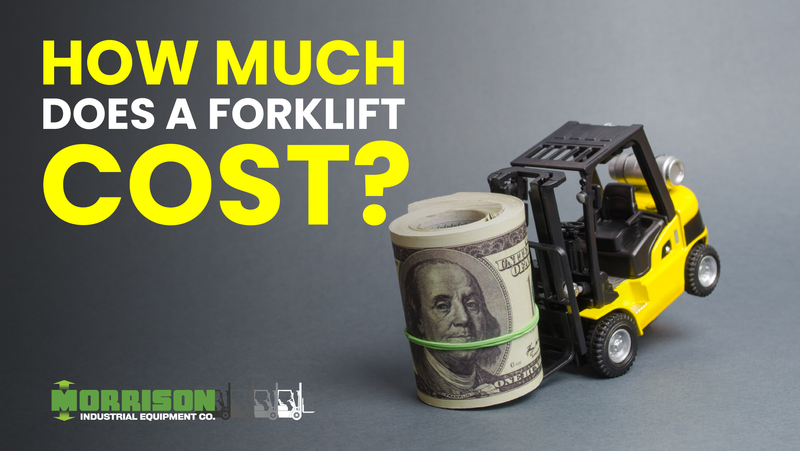 It's time to add a forklift to your fleet. Maybe it's a replacement for an existing truck that's outlived its usefulness. Or maybe your operation has evolved and requires more capacity or different capabilities.
No matter the reason, you may be wondering about the cost of a forklift. It's a simple question but the answer is far from simple. There are many factors that influence forklift price. In fact, the answer to the question, "How much does a forklift cost?" is usually "It depends." At Morrison we've seen forklift prices ranging from a low of $30,000 - $45,000 and up to hundreds of thousands of dollars for super heavy-duty models.
This article will explain what goes into forklift pricing so you can consider your needs before you make a buying/leasing decision. We'll also suggest some ways to reduce costs with lease options, used forklifts, or rental equipment.
What goes into forklift pricing?
Buying a forklift is similar to buying a car. Before you buy a car, you may ask yourself:
How do I plan to use this vehicle?
How far will I drive it each day?
What road conditions does it have to handle?
What features do I want?
With cars, there's a wide range that includes everything from low-cost, utilitarian vehicles to expensive, luxury models. While there aren't luxury forklifts, there's certainly a range of options. Here are the factors that affect the cost of these options.
Load capacity
Load-carrying capacity is a major factor in forklift pricing since it defines how the truck can be used. The greater the forklift's load-carrying capacity, the higher the price. A 10,000 lb. capacity truck's price may be double that of a 5,000 lb. capacity truck. Carefully consider the load capacity you need.
Fuel type
Forklifts are powered by electricity (batteries), liquefied propane (LP), or diesel.
Electric forklifts may have higher price tags than LPG and diesel trucks because when you buy electric, you pay for the "fuel" upfront as the industrial battery is an integral part of the forklift. The type of battery you specify (usually lead acid or lithium ion) significantly affects price.
Diesel forklifts may have somewhat higher price tags than similarly equipped LP trucks because diesel forklifts have heavier, more durable parts due to the way their engines operate.
Purchase price is a moot point, of course, if your application cannot accommodate the emissions of an internal combustion engine.
Mast height
A 189" three-stage mast is a fairly common standard. However, there are other heights and configurations available as options – shorter, for confined spaces to extra tall to reach 25-foot-tall racking. A non-standard mast height may add to a forklift's price tag.
What does your application call for? Will this forklift need to operate in areas with limited space, like a semi-trailer? Or will it need to pick and place pallets on high shelving?
Tires
Cushion tires and air-filled pneumatic tires are the base option for most forklifts. There are other specialized types to handle certain applications like slippery conditions. Tire type affects the purchase price. If your application calls for something beyond the standard, be prepared to spend more to get them.
Forks
For mid-range models, there isn't much price variation for forks.  If you need a larger model, forks may add to the forklift's price tag. But, there are a wide range of fork attachments your application may require, such as paper roll clamps, rotators, carton clamps, layer pickers or spark retardant forks that will be added as an extra cost.
Options and accessories
The more optional features and accessories you want, the more expensive your new forklift will be. Consider if you'll need:
Enclosed cab
Heater in cab
Custom paint scheme, like your company's colors for example
Cold storage package for freezer applications
ES, EE, EX-ratings for working with/around hazardous materials
Safety features like blue and red zone safety lights, LED headlights, horn
Seat belts
Suspension seats
Factor in operating costs
The cost of a forklift extends beyond purchase price. Consider the cost of fuel, maintenance requirements, projected life, and warranty as part of your cost calculations.  Your Morrison representative can help you determine the total cost of ownership of a given forklift model based on your usage and application.
Purchase or lease?
The decision of whether to buy or lease a forklift is important to your organization's finances. The basic rule is that if an item will increase in value, buy it. If it will decrease in value, then lease (or rent.) Of course, there are exceptions.
Leasing lets you acquire a forklift without a down payment. The equipment is paid for out of the operating budget, not capital reserves.
Your Morrison representative can explain the lease options available. Consult with your accountants on whether leasing or buying makes sense for your organization.
How about a used forklift?
If the cost of a new forklift doesn't fit your current budget, purchasing a used truck may be the answer.  At Morrison, a good quality, low-hour 5,000 lb. forklift is usually in the $25,000-30,000 range.
Pricing used forklifts takes all the above factors into account plus the following:
Condition: Is it in good shape or at the end of its useful life?
Maintenance history: Has the owner done all the recommended maintenance?
Age: When was it manufactured?
Hours: How many service hours has it been used?
Supply & demand: How hard-to-find is this model? Is it in demand? (As of this writing there is a shortage of good quality, used forklifts.)
Warranty: Is the forklift under warranty or sold As-Is? How much of the warranty period remains?
Morrison has a large inventory of used forklifts and can help find a model that suits your application.
When is renting a good business decision?
If your need for an additional forklift is time-limited, a rental is an excellent option since it saves you the long-term investment a purchase means. A rental can help keep productivity up during a seasonal growth spurt or as a temporary solution until a new forklift fits your budget. Also, if you want to test a forklift before buying it, you could rent it first so you can try it out in your facility.
Morrison offers rentals of forklifts, sweeper/scrubbers, aerial lifts, and other material handling equipment. Your local Morrison representative or rental specialist can give you good advice about the forklift model that will best meet your needs.
Learn how renting equipment from Morrison is more affordable with our Customer Advantage Rate.
A partner you can trust
When you're considering a forklift purchase/lease (new or used) or a rental, reach out to us for help in choosing the best forklift options for your application and the best investment option for your business. We partner with you to ensure that you get the best forklift for your specific needs in a price range you can afford. We also provide the best service to make sure your equipment performs as expected over the life of that forklift. Our trained representatives will partner with you to ensure you get the best for your specific needs.
Mar 01 20224 Min. Read
When is a short-term rental a good business decision?
Sep 01 20214 Min. Read
Do you have good visibility into your forklift fleet's status? Have you asked yourself whether a forklift is worth the money you're spending to run it?
Nov 01 2021 Financing 5 Min. Read
This post will focus on the lease versus buy decision and explain the advantages of the primary types of leases.
Feb 03 2021 Batteries 4 Min. Read
In this article we compare forklift battery types by looking at power and energy, charging, maintenance, safety and more.
© https://www.morrison-ind.com