The different types of forklift tires and how/where to use them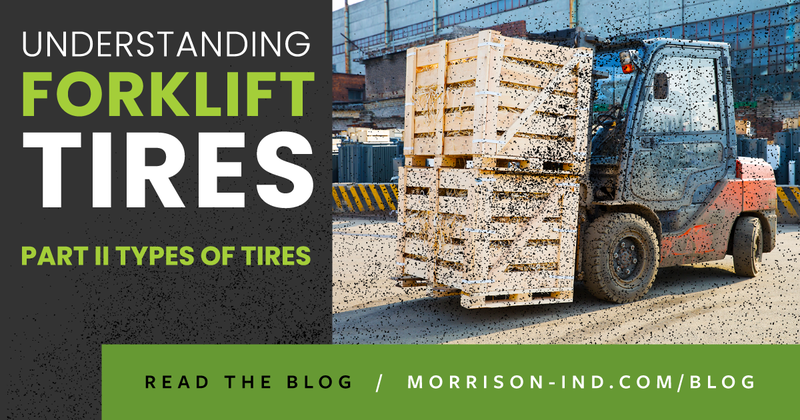 Your forklift's tires impact the efficiency of the forklift's operation. A review of the types and applications of forklift tires is provided in this article.
Basic types of forklift tires
There are two basic types of forklift tires:
1. Cushion tires
These are usually solid rubber pressed onto a metal band. They're ideal for indoor environments or light outdoor use (on smooth, paved, debris-free surfaces). These tires offer low ground clearance that's ideal for indoor use. There are two types:
● Smooth
Best for dry surfaces like warehouses, distribution centers, manufacturing facilities
● Traction
Tread adds traction in wet conditions, so may be the choice for loading docks and other indoor / outdoor applications
2. Pneumatic tires
Pneumatic tires offer better ground clearance than cushion tires and are used more frequently in outdoor applications. There are two types:
● Solid pneumatic
Because these forklift tires are made of rubber throughout, they resist punctures from debris. They are used outdoors in areas like lumber yards, scrap yards and construction sites.
● Air pneumatic
These are like car tires—made from rubber and filled with air. They provide great traction for maneuvering over uneven surfaces and gravel so they're well-suited to outdoor operations. Because of the risk of punctures, these tires aren't recommended for environments with debris on the ground.
Foam filling is an option for air pneumatic tires that prevents flats. It requires a two-to-three-day process. Foam-fill and solid pneumatic tires can usually be used with your existing wheels.
Specialty tires
Special circumstances call for specialized tires. 
Non-marking
Non-marking forklift tires don't leave black marks and stains on floors. They contain no carbon black, so there is no cross-contamination from the carbon dust. Non-marking tires are ideal in sensitive applications like food and paper production.
Fiberglass-impregnated
Friction causes tires to heat and lose their integrity. Fiberglass-impregnated tires have a higher resistance to heat and offer advantages in high-use applications.
Polyurethane
Polyurethane tires are chemical-resistant, making them a good choice for chemical processing plants and other operations where chemicals are present.
Static-resistant
Static-resistant tires prevent static discharge. They are suitable in semiconductor industry facilities and others that require careful control of static electricity.
Consult Morrison to make sure you get the best tires for your lift truck and application.
Important things to remember
When selecting tires for a forklift, remember:
Don't put pneumatic tires on a cushion tire truck and vice versa. Manufacturers build forklifts to operate with specific wheels and tires.
It's okay to mix and match solid and air tires on the same forklift--just be sure to have the same type of tire on the opposite sides of an axle.
Morrison - your partner for forklift tires
Did you know we offer Mobile Tire Press Service? We provide complete on-site tire replacement services to minimize production interruptions and downtime.
We'll safely press and replace your tires hassle-free for you. Featuring the largest stock and most competitive tire prices in the region, we will have you up and running in no time!
Tire surveys are available at no cost and without obligation.
Sign up for free tire surveys today!
Each tire replacement service includes removal and installation of new tires as well as disposal of the old. We will need the following information:
Model
Serial Number
Size of the tire (molded into the side and inside sidewall
Compound (usually we can figure it out by the color)
© https://www.morrison-ind.com