Material handling equipment in agriculture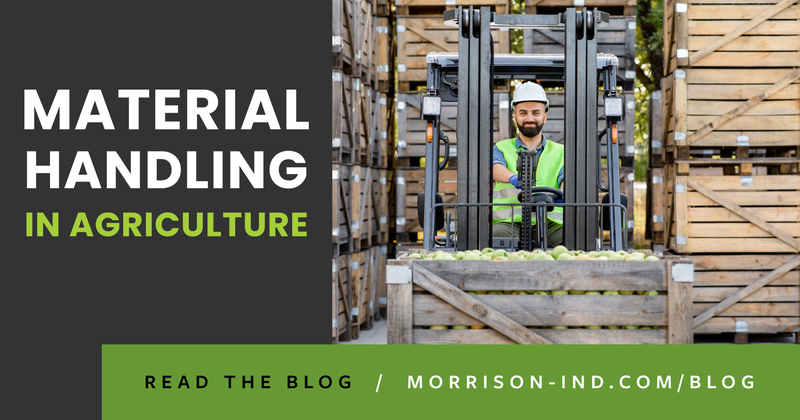 Most folks don't associate forklifts with farming. Tractors and combines, sure. Forklifts and other material handling equipment, not so much.
But as the need for increased speed and efficiency in agriculture has grown, modern material handling solutions have replaced tractors on farms of all types. Supplies and seed are regularly delivered on pallets, so forklifts are quickly becoming a staple of the modern American farm. Farmers looking to expand or who want to store more seed, produce, or supplies need the extra oomph that a lift truck brings. 
Forklifts on the farm
What kind of material handling equipment is right for your farm? That depends on many factors. After all, an orchard has very different needs than a dairy. The right solution depends on terrain and environmental conditions as well as the types of jobs to be done.
When you need to choose material handling equipment for your farm, consider your specific operation:
1. 
Crops and crates
You can reduce the time and stress of moving crated produce, palletized or bulk items with a forklift. Forklifts on the farm let farmhands stack palletized/crated produce higher and more securely. Plus, the wide range of available attachments, such as rotators for dumping loads of fruits, berries, or vegetables, allows you to change existing equipment to fit various applications, saving both time and money.
Load capacities range from 3,000 lbs. to 55,000 lbs., so no matter what you need to lift, stack, move—we have the perfect solution for you.
With the right tire kit, certain forklift trucks can safely handle mud and muck, ice, and snow. Some models also have optional temperature-controlled operator cabins that combat heat and cold.
2. 
Moving, loading, and storing
Storing bulk/palletized seed, fertilizer, and harvested items is a challenge. However, you can convert your barn into a fully functioning warehouse with the right equipment. Forklifts, telehandlers, pallet jacks, and more can help manage, move, load, and store all these heavy, large items with ease.
3. 
Livestock and animal husbandry
Modern material handling equipment makes hauling hay bales and stacking feed onto high barn lofts easier and safer. Tow tractors, telehandlers, and forklifts make quick work of essential chores like feeding and easily lift, transport, and maneuver equipment and crated livestock from point A to point B.
Get the right material handling equipment
Choosing the right equipment for your operation doesn't have to be complicated. Keep in mind that seasonal needs can be met with short-term rental. And your local Morrison branch team is available to help you as you consider:
●     Weight and dimensions of your loads
●     Whether or not all loads are palletized
●     How high loads need to be lifted
●     Indoor and/or outdoor operation
●     Condition of the surfaces to be traveled
●     Weather conditions
Morrison is a multi-line supplier that can handle agriculture industry's full range of material handling needs. We have extensive experience in a wide variety of ag operations.
Contact us. Let us put our expertise to work for you so you get the material handling equipment that's right for your farm. We can assess your operation, goals, and budget and recommend the right products. Then we'll stand by those products with our excellent parts and repair services.
See you at the Great Lakes Fruit, Vegetable and Farm Expo this December at DeVos Place!
© https://www.morrison-ind.com