Forklifts in the construction industry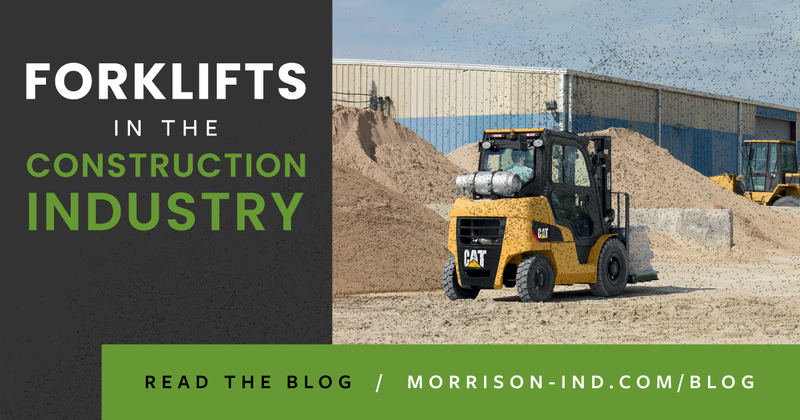 When you think about material handling equipment in the construction industry, forklifts may not be the first thing that springs to mind. Front end loaders, back hoes, and conveyors may be what you think of right off the bat.
The truth is, though, forklifts are popular tools at building sites because they're incredibly versatile. Their ability to lift, carry, and retrieve heavy loads from great heights makes them an invaluable asset to the construction industry.
In construction, forklifts are used to move material across sites and distances. Bricks, wood, shingles, tile, and other construction materials are often delivered on pallets. (These materials are easier to ship when packaged this way.) When they are delivered on-site, a forklift can help move them to where they are needed.
What to consider in a forklift
Choosing the right equipment for your construction operation should be based on these factors. Morrison can help you find the best model for your operation. We understand the construction industry, and we know forklifts.
Load capacity
Forklifts come in many sizes to handle different loads.  Before selecting a forklift model, define:
Weight and dimensions of your usual loads

(Do you need to carry long runs of lumber, tall stacks of shingles? What's the maximum and average weight?)

If loads are going to be palletized
How high loads need to be lifted

(Will you need to get to the second or third story, to the roof?)
Condition of travel surfaces
Rough or slippery surfaces may call for specific types of tires. Tire requirements can restrict your choice of forklift models.
Weather conditions
Cold, extreme heat, snow, rain, and ice can all be challenging for forklifts. If you regularly deal with any of these, find a forklift and the right accessories to handle weather conditions.
Trust Morrison for advice and equipment
You need a knowledgeable partner who understands your operation and can recommend equipment that fits your needs and budget.
Morrison is a multi-line distributor that can handle your material handling equipment needs. Our representatives have construction industry experience and can quickly understand your requirements.
Contact us. Let us put our expertise to work for you so you get the material handling equipment that's right for your operation.
© https://www.morrison-ind.com