Introducing Our New & Improved Website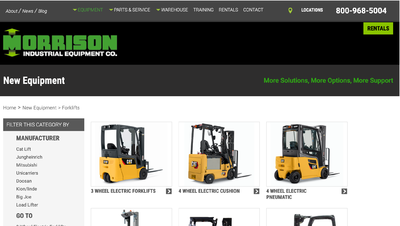 Find more of what you're looking for on our new & improved website!
Some may have noticed a gradual change in our branding, such as the green and black colors and Morrison logo without the familiar forklift trucks illustration. Part of the reason for that is our desire to communicate that we are more—way more—than just forklifts.
To help us help you more with more of the things we do really well, we also seriously updated our websites to include more in-depth information on our equipment products as well as pallet racking and modular offices, services, parts, our Systems Analysis, Fleet Management programs and much, much more.
Being a multi-line material handling equipment dealer is exciting because we can offer you many more options and solutions. On the new website, you can now see and research the various brands of equipment we offer, access free downloads, watch product videos and utilize our contact forms when you are ready to learn more or request a quote.
In the navigation menu under EQUIPMENT > NEW EQUIPMENT, you will find the four main categories: Forklifts, Aerial Lifts, Utility Vehicles and Sweepers/Scrubbers. Click VIEW ALL in any one of those categories to go to the page featuring that type of equipment. For example, from Forklifts go to IC Forklift – Cushion Tire, then click on the model Mitsubishi FGC15N-FGC33N. In the detail page for that truck, you can read a brief description, see photos, watch a video, download a free spec sheet and contact us if you need more information. You will notice we have already filled in the subject for you, so you don't have to copy & paste or re-type the make and model you're inquiring about.
To go back, simply use your go back button
To filter by manufacturer, click the name of the brand you want to see
To reset the manufacturer filter, click Reset Filter
Please explore! We welcome your feedback!
Thank you!
© https://www.morrison-ind.com