Selecting the right forklift for your lumberyard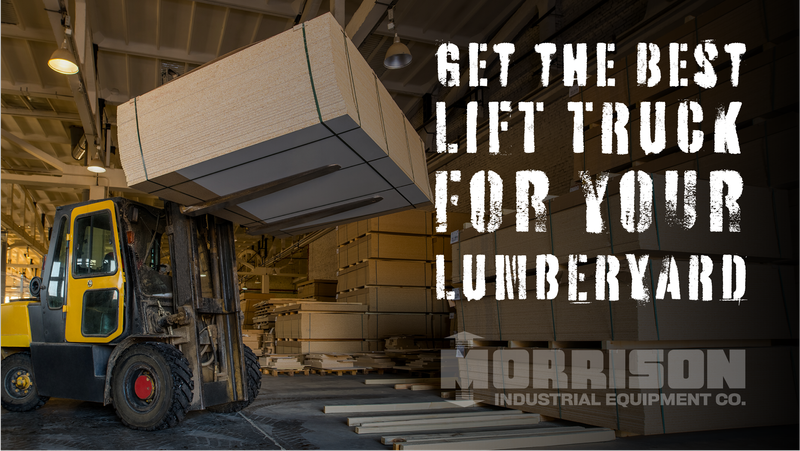 This blog post will focus on the lumberyard environment and examine factors to consider when purchasing forklifts.
If you're managing a lumberyard, you no doubt rely on a forklift. You probably rely on a fleet of forklifts. Boards, planks, studs, and beams are just too heavy and cumbersome to be moved around by anything else.
This blog post will focus on the lumberyard environment and examine factors to consider when purchasing forklifts.
Why forklifts are important
Running a lumberyard is tough. Consolidations are common, making the competitive environment even more difficult.
"People can go anywhere for a 2 by 4. They come to us for customer service.... Our biggest challenge then is time management. Every customer wants their order delivered on time, accurately. Our equipment has to be reliable."
Lumberyard Operations Manager
How can forklifts help keep your operation competitive? It starts with building your fleet with a tailored mix of models that streamlines your operation and saves money. The mix should be created based on your lumberyard's unique usage patterns. Then you can maximize the efficiency of your operation by tracking each lift truck in your fleet and tweaking usage and procedures as needed.
"We use forklifts in every aspect of our business - loading and unloading both incoming and outgoing trucks, building loads, anytime something needs moving."
Lumberyard Foreman
Watch this video to see how Carter Lumber uses forklifts to deliver great service to their customers.
What do you consider when selecting a forklift?
When you're evaluating forklifts for lumberyard use, consider these factors:
Forklift loads
Lumberyards deal in large, long, heavy products. The types of loads you handle will have a major impact on the types of lift trucks your operation needs. Gather information on:
The length, width, height, and weight of "typical" loads
The heaviest, longest, and widest loads
The distance trucks usually travel
The height you need to reach to move, store and access materials and products
The lumberyard environment
Lumberyards are typically tough working environments. Material may be stored in both indoor and outdoor locations. The equipment you use needs to be able to handle all environmental elements. Consider:
Are the aisles and roadways in good shape?
What surfaces do forklifts need to negotiate? (Gravel, asphalt, concrete, dirt, etc.)
How wide are the aisles and roadways?
What weather conditions will your equipment need to handle?
Ergonomic forklift design
Newer forklifts are ergonomically designed so they reduce and even eliminate repetitive stress injuries. This can lead to greater job satisfaction, better performance, and lower worker's compensation claims. Pay attention to:
Seat design
Grab bars
Easy-to-use controls
Operator visibility through the mast
Tires
Must-have features for lumberyard forklifts
Based on our years of experience working with lumberyards and building materials suppliers, we recommend these forklift specifications:
Lumber forks in forged heel, square heel, single taper, or double taper. The forks' 47 ½" length prevents them from touching and potentially damaging wood on the other side of the rack when the operator is pulling pallets of lumber. Download our Fork Guide here.
Dual drive tires for better traction outdoors and to prevent getting stuck in the mud or snow
Wide carriage (59") to match the wider dual drive tires
Solid pneumatic tires for better outdoor performance and operator comfort
Triple stage mast (188") to accommodate lift heights
Full cab for outdoor use (with heat, air conditioning, defrost, wipers) for operator safety and comfort
Recommended models
These forklifts are ideally suited for use in lumberyards:
Cat® Lift GP40N and GP50N Pneumatic
The 8,000 and 10,000 lbs. capacity models, GP40N and GP50N are ideal for lumberyard use.  Designed to operate in tough environments, these forklifts are equipped with a powerful engine and durable mast – delivering the rugged performance you need to get the job done.
Go to model spec page > Cat® Lift GP40N and GP50N
Doosan 7 Series Pneumatic
We also recommend the Doosan 7-Series G35S-7, G40S-7 and G45S-7 models with 8,000, 9,000 and 10,000 lbs. load capacities respectively. Featuring Doosan powershift transmissions designed to modulate frequent directional changes and a heavy-duty drive axle made of cast iron, these lift trucks are perfect for lumberyard use. They are equipped with high torque engines that run at low rpm to reduce wear and tear on the engine and a powershift transmission. The 7 Series shuttles loads tirelessly and consistently.
Go to model spec page > Doosan G40S-7
Mitsubishi FG40 and FG50CN Pneumatic
Mitsubishi's FG40N 8,000 lbs. capacity truck and the FG50CN 10,000 lbs. capacity model are lumberyard workhorses. This series of IC pneumatic tire forklift trucks is ideal for working in rugged, outdoor environments where surface conditions are often rough, wet, and dusty. Built to accommodate a broad array of industries, these forklifts are designed to move heavy loads ranging from unprocessed lumber to concrete blocks and containers.
Go to model spec page > Mitsubishi FG40N and FG50CN 8,000 & 10,000 lb. capacities
Your partner for equipment, parts and more
If you're in charge of material handling for a lumberyard, you need a knowledgeable partner who knows lift trucks and understands your unique needs. Morrison can help. When you're considering a lumberyard forklift purchase, lease, or rental, reach out to us for help choosing the truck that matches your application and presents the best investment option for your business.
We also offer a broad range of replacement parts as well as exceptional, affordable service to make sure your equipment performs as expected over the life of the truck. Our trained representatives will partner with you to ensure you get the best for your specific needs.
© https://www.morrison-ind.com