Every Worker Deserves to Make it Home Safe – Every Day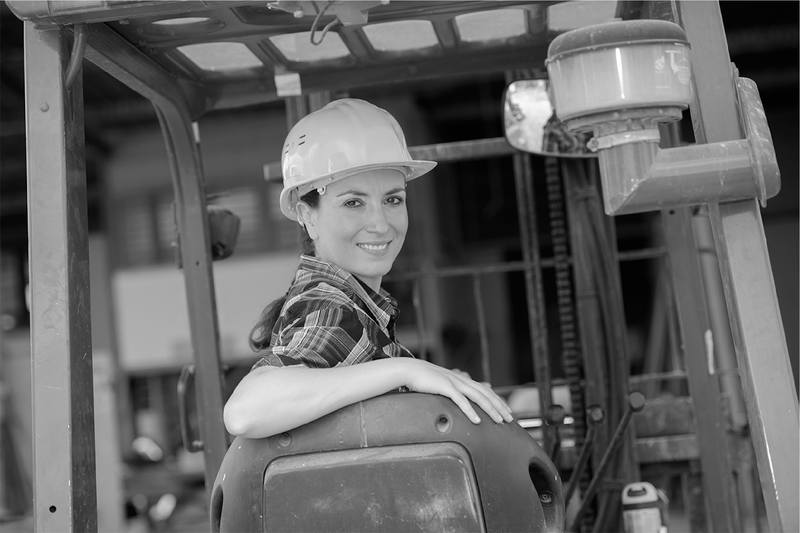 So many workplace accidents, injuries and fatalities can be prevented with proper training. In this article, we review potential safety hazards, how to train forklift operators effectively, and the importance of paying attention to potentially hazardous workplace conditions.
I Can't Stop!
Forklifts are heavy pieces of equipment that are extremely dangerous when not operated properly by trained, qualified, competent operators. Did you know that the average car weighs 3,000 lbs. while the average forklift weighs in a 9,000 lbs? The counterbalance weight required to safely balance the loads can make them very hard to stop and easy to tip over.
Statistics show that there are approximately 100 forklift related fatalities each year in the US. That's more than 8 preventable workplace deaths every month. There are also as many as 96,000 forklift related injuries each year.
Be Aware of Potential Hazards [1]
While operating a forklift, there are a number of things that have the potential to become hazardous. Other traffic, your load, the condition of your own machine just to name a few, all have the potential to cause serious harm while operating a forklift. Here are some of the most common causes of forklift related injuries and death:
Unstable Loads
Operator Inattention
Forklift Overturns or Tip Overs
Operators Struck by Load
Improper Use Such as Elevating People
Lack of Training
Proper Training Makes the Difference [2]
A forklift operator is only as prepared and proficient as the training they receive. Our corporate forklift operator trainers Russ Niedzwiecki and Scott Ahner provide your operators with comprehensive training programs that are effective, convenient and OSHA-compliant, in the classroom or online. The benefit of utilizing a professional forklift operator safety training program is measurable:
"According to OSHA, 70% of workplace accidents can be avoided with proper training and safety procedures. Our goal is to help ensure the safety of your operators, the people around them as well as the powered industrial equipment they operate."
And, if you decide to implement training curriculum internally, TrainMOR's Train-the-Trainer courses (https://www.trainmor.com/train-the-trainer/), provide your company trainers expertise required to create and administer a forklift training program within your workplace.
Workplace Conditions [3]
Are there any uneven surfaces or obstructions within your workspace? Work areas are rarely perfect, which is why forklift operators should be made aware of and prepared to safely navigate dips, cracks and other uneven surfaces as they move through their workspaces.
Do you work in a cold setting, such as a freezer, where there may be ice patches? Do you encounter product spills while on the job? Slippery areas are especially important to be aware of and avoid as they can easily cause forklift operators to lose control and traction while driving. Stop, block off those areas and address immediately before getting back on the forklift.
Are your work areas well-lit? Do they clearly display proper safety signage such as stop signs and speed limits? These safety measures protect both hi-lo drivers and pedestrians. Preventing accidents takes a team effort! Maintaining a safe and suitable work environment through measures like signage and lighting is a part of it, but pedestrians must stay clear of forklifts and operators must always be aware of pedestrians, inspect their trucks before operating, pay attention to surroundings, drive at safe speeds and report any unsafe conditions.
The Hidden Cost of Operator Error
There are plenty of reasons to emphasize workplace safety, with the costs of operator error being farther reaching than you may expect. OSHA violations, insurance costs, loss of productivity, damaged property and other indirect expenses add up exponentially. Click here to read the full article about these hidden costs on our TrainMOR site.
Contact Us
If you are interested in learning more about forklift training safety programs and how to increase accident prevention measures within your workplace, please give your Morrison Branch a call or navigate to TrainMOR's forklift operator training program, available in the classroom or online.
[1] https://www.osha.gov/SLTC/etools/pit/operations/maneuvering.html
[2] https://www.osha.gov/SLTC/etools/pit/assistance/index.html
[3] https://www.osha.gov/SLTC/etools/pit/workplacehazards/surfaceconditions.html
© https://www.morrison-ind.com